Posts Tagged 'UFO'
September 15, 2011
Comments off
PHOENIX – Many residents around Arizona have reported seeing a "glowing object" fly across the night sky Wednesday.
Some experts believe it was either a fireball or a bright meteor. ABC15 started getting reports of the object around 7:45 p.m.
Our multimedia journalist Brien McElhatten captured two photos when he saw a glowing orange light before an object started streaking across the sky.
One photo shows how the glowing light looked in Chandler. The other image was taken as McElhatten kept the shutter open to show the object streaking across the sky.
"It had a big old tail, and it was so bright. I couldn't believe what I was witnessing," Valley resident Holly Pickard told ABC15.
Law enforcement in the Valley also saw the object.
"We received four calls (total) regarding the light in the sky," a Phoenix Police spokesman told ABC15. "Our air unit, myself, and other officers also observed it as well. We all made our wishes and went back to work."
A spokesman with the Maricopa County Sheriff's Office said their aviation unit did confirm seeing the meteor over Deer Valley Airport, but there haven't been any reports of an impact site.
Many of our viewers are also sounding off about it on the ABC15 Facebook page.
Sharon Roesch wrote, "It was huge and incredible- we were driving and too much in shock."
Althea Keegan wrote, "It had a green tail and burned out just as I had my camera ready to snap a picture."
The ABC15 newsroom confirmed that there have been similar reports in San Diego, Los Angeles, and Las Vegas. - abc15.com
Large Fiery Object Shoots Across Sky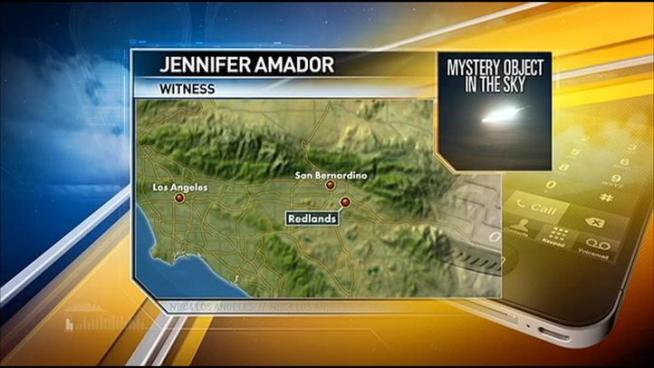 People from San Diego to Los Angeles to Las Vegas reported seeing a large, greenish, fiery object shooting across the sky Wednesday night.
There is no word yet on exactly what it was.
"I saw something that looked like a falling star but it must have been a fireball in the atmosphere," a witness told NBC4. "It was huge. It had a green glow in front of it and a white tail. It like green fireworks going across the sky."
Witnesses said they saw the fireball around 7:30.
"I was talking to my friend and said, Oh My God, I'm watching something. I don't know what it is? It's not a UFO, but it's something falling from the sky, like on fire," said Marty Styles.
The FAA and the National Weather Service said they have received many calls. A spokesman from the National Weather Service said it "sounds" like it was a meteor.
It's not unusual for a meteor to appear to change colors, experts said. Many meteors are out there during the day. But, if they are seen at night, they appear much more dramatic.
At first there were concerns that the fireball may have been an aircraft. But that does not appear to be the case.  -
NBCLosAngeles
Multicolored fireball in sky dazzles Southwest
A brilliant bright light seen streaking over the Southwestern sky Wednesday night was most likely a fragment of an asteroid that entered Earth's atmosphere, a NASA scientist said.
Residents from Phoenix to Las Vegas to Southern California's coastal areas reported to local authorities and media outlets that they saw the light move quickly from west to east at around 7:45 p.m. PT (10:45 p.m. ET).
Experts said a fireball — or very bright meteor — was likely to blame.
"I saw something that looked like a falling star but it must have been a fireball in the atmosphere," one witness told NBCLA. "It was huge. It had a green glow in front of it and a white tail. It looked like green fireworks going across the sky."
While many witnesses reported the light as bluish-green others said it appeared yellow and orange.
"We can't say 100 percent," said Don Yeomans, manager of NASA's Near-Earth Object Program, "but it's almost certain that the object was a fireball" or very bright meteor, "the size of a basketball or baseball that likely disintegrated before it hit the ground."
Experts said that a meteor is slower than a regular shooting star, and it's not unusual for it to appear to change colors. – MSNBC.com
Look to and pay attention to the "Seven Sisters."
Part of the LOZ are presently battling the remnant of an intruder force in that sector of space. It is a large force, but be confident that the LOZ will be victorious.
Nehemiah 9:6 "You alone are the LORD. You created the heavens, the highest heavens with all their host, the earth and all that is on it, the seas and all that is in them. You give life to all of them, and the heavenly host worships You."
Amen.
Job 16:19 "Even now my witness is in heaven, and my advocate is in the heights!" But we shall bring them down to the depth of oblivion for their transgression against our Creator.
Job 38:33 "Do you know the laws of heaven? Can you impose its authority on earth?"
We are the deputies of Yahweh. Her warriors that impose Her authority upon all of creation – whether it be of our own reality, or those that choose to intrude and meddle in affairs that do not concern them. To those that intrude:
Nehemiah 2:20 "I gave them this reply, "The God of heaven is the One who will grant us success. We, His servants, will start building, but you have no share, right, or historic claim in Jerusalem.""
They are in effect, not part of this reality's past history and therefore are not a part of the coming New Age Promised by our Grand Creator. What lies ahead for all those that are resisters to our Mother's Sovereign Authority:
Psalm 20:6 "Now I know that the LORD gives victory to His anointed; He will answer him from His holy heaven with mighty victories from His right hand." We will decimate our Mother's enemies as She looks on and……Psalm 2:4 "The One enthroned in heaven laughs; the Lord ridicules them."